SUP NEWGROUNDS!!!
Sorry it's been awhile, I haven't been posting much here, but that's not what I'm here to talk about. I'm here to give some updates on the Violet mod which has been in development for 6 months now. Damn, six months already.
Anyways, as you may or may not know, bbpanzu (Creator of the Carol and Sunday mods) is the current coder of the Violet mod. Earlier this month, the most we had was just Violet casually controlled by arrow keys, showing she was working. Now we have footage of her in action!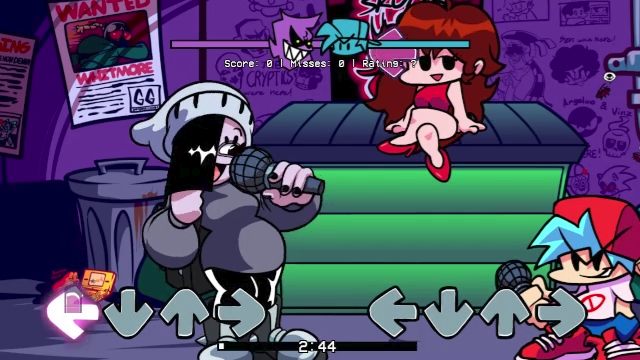 Yeah, can't show it in motion here, link to the Instagram post here:https://www.instagram.com/p/CUDDozblGlk/
While I've already done some re-recording for vocal tracks and such, seeing this has me really excited for the future!
With that said, I do worry about bbpanzu though. As much as I would like get more of this done now, with school back in session I worry about putting too much pressure on him. You know how stressful school can be. I still have a lot undone at the moment so I should get on that.
As for things that have been done lately... LOTS. OF RE-RECORDING has been done. I've been making changes, reversing changes I made, tried making a variant of the background, didn't look good. Just fine tuning things that are finished. Most of this work was on the songs, because I was doubting myself about this mod. At first, I would go back and listen to the songs I made and it raise my spirits up a bit, but after awhile, little things started bothering me.
For the first song, little audio pop in the beginning and some high pitched peeps were getting on my nerves, as well as Violet's voice. The second song, Violet's voice sample started sounding weak and lazy, like the voice started limping, like trying to hold a hot dog straight in a horizontal angle. And the third song, I LITERALLY RAISED UP THE PITCH TILL I REALIZED I HATED IT, AND JUST CHANGED IT BACK with the voice samples changed or adjusted. All the deep tones that carried those emotions of fear and anxiety just disappeared, and I just couldn't leave it that way.
I know a lot of this sounds like small annoyances that nobody would care about, but even the smallest things can have a big impact. The reason I've been messing with pitches is due to Boyfriends vocal range. To a certain point, you gotta know when his voice sounds too high or too low. How much vocal room does he have? So I've been tirelessly adjusting and re adjusting the song pitch to fit his vocal ranges, as well as Violet's sense hers is more high pitched than Boyfriends.
So yeah, I have all these different versions of the three songs that will never be used, ranging from MP3 files, MP4 files, or VEG files. So that will be interesting to dig through in the future. Whether or not I should release these variants is up to you guys, because I know how cool finding lost media can be. As of right now, all three songs are in a MUCH better state, and don't have any voice other lapping, unbalanced volume, or any of those pops and peeps.
One last thing I want to mention. I'll try using a tag for the Violet mod, as most mods seem to use. So are some tags...
FOR THE MOD
FOR CHARACTERS
fnfviolet
fnfhobbes
fnfivan
That's all I have to share in terms of updates. Thank you and stay tuned...